This is a yummy soup recipe a friend shared with me about twenty years ago. The original was delicious but it used mainly canned ingredients and cream soups. I have adapted this over the years to make a healthier but still very tasty and easy soup. This is my son's favorite soup.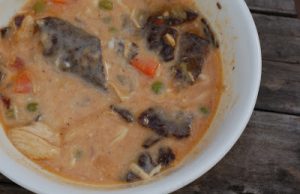 Chicken Tortilla Soup
1-2 Tbsp extra-virgin olive oil
2 carrots, diced
1/2 yellow onion, diced
1/2lb – 3/4lb  leftover roasted chicken, shredded in bite size chunks, or poached chicken
1/2 cup  diced tomatoes with green chili's 

(you could use rotels, I use Trader Joe's version because it's organic)

1 1/2 32oz.  cartons of chicken broth or (6 cups) homemade broth
1/2 cup flour  (you could also use corn starch or arrowroot)
Spices: 1/2 Tbsp garlic powder,  1/2 Tbsp chili powder, (to taste) sea salt and fresh cracked pepper
1 cup frozen peas
Stuff for the bottom of the bowl:
Shredded Mexican cheese blend
Crunched up leftover tortilla chips 

(you know the stuff no one wants to eat because it's small and broken)

A dollop of sour cream
Heat a large soup pot or dutch oven on medium-high add olive oil and onions. Cook until translucent keep an eye you don't want burnt onion bits. Add the carrots and let cook for a minute or two. Turn your stove down to medium. Now add the chicken, flour and spices. Mix the ingredients until well combined. You want the flour to coat the chicken and veggies. Next add the tomatoes and chicken broth. Simmer for 45 minutes to 1 hour. In the last 10 minutes go ahead and add the frozen peas.
Get your bowls out and add a dollop of sour cream, tortilla chips and a little cheese. Ladle soup on top and then enjoy!

I know a lot of people have tortilla soup recipes if you have a recipe that you love please share it in the comments below.